Custom Shaped Promotional Printed Hand Fans
Pass them out everywhere!
Custom printed hand fans are an excellent promotional item to pass out just about anywhere. The low cost of hand fans makes advertising affordable without burning a hole in your pocket. Promotional hand fans can be used to stay cool, get attention, and show support for your teams, politicians, celebrities, and more. We have custom hand fans in many shapes and sizes that you can imprint with logos, names, or custom artwork.
Need your hand fans in a hurry?
We specialize in rush service, and offer it with many of our products. If you need your hand fans in a rush, feel free to call our friendly customer service representatives today at (800) 915-3535.
Click here for a Free Catalog or call us toll free at (800) 915-3535!

Custom shaped hand fans can be used for many different occasions and businesses. Use hand fans at churches, elections, sporting events, auctions, rallies, parades, fundraisers and more to promote the business or events. There are many different designs to choose from for your promotional shaped hand fans. Print your name, logo, or custom artwork on religion hand fans, inspiration hand fans, patriotic hand fans, sports hand fans and more.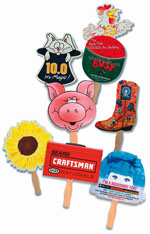 The maximum size for a custom fan is 9 1/4" from top center to bottom center of fan and 10 1/2" across. If imprinting on the back, allow a 1 1/4" x 4" open area at the bottom center for handle placement. Price includes one color, one side imprint on white, 18-point board, which is coated on one side. Wooden handles are stapled to the fan, and the staples will appear in the imprint. Fold-Over Fans are available in custom shapes. Contact factory for information.
Extra Charges: Recycled Fan Board, Add $.03 each. All custom shaped hand fans & masks will require a one time cutting die charge. Minimum die charge is $150.00 , and increases depending on complexity. To determine your die charge for a custom shaped fan, send an outline to Customer Service and we will quote an exact die charge. 

Printing Plates: $37.50 per color, per side. FIRST PLATE FREE with camera-ready art. 

Glue Handles: To have handles glued instead of stapled: Single Ply Fan: Add $.13 ; Fold-Over Fans: Add $.22 . 

PMS Color Match: $25.00 per color. No PMS color match charge for standard inks. 

Eye Holes: Perforated at no charge. Punched $.03 
Union Label: Add 40% net extra to price of fans. 
Item
250
500
1000
2500
5000
10000
Custom Shaped Fans
0.83
0.59
0.45
0.41
0.37
0.34
Custom Shaped Masks
0.83
0.59
0.45
0.41
0.37
0.34
Add'l Color or Second Side
0.18
0.10
0.06
0.05
0.05
0.05
Office: 1505 Corporate Woods Pkwy. Suite 500
Uniontown, Ohio 44685
Fax #: (330) 899-0407