4-Color Hand Fans

Custom printed Rally fans can make great advertising space for any event. Rally fans are large and can be printed with either full or spot color to make an attractive sign that is sure to draw people's attention. Promotional rally fans are available in a variety of different shapes to for even greater appeal. With the large size of rally fans you can have a promotional item that acts like a small billboard for a low price.
Rally Fans are available in your choice of spot color or 4-color process printing. Fans are supplied with the wooden handles attached. Remember to plan for the handle placement when requestiong backside printing. Sticks cover approximately 1 1/2" x 4 1/4" of the center, backside.
4-color process rally fans are digitally printed an perfect for photographs, halftones or fine copy. The price includes both face and backside imprint. If color matches, metallic or fluorescent colors are required, please refer to the spot color version.
Production Time: Approximately 7 working days.
CLICK HERE FOR PRICING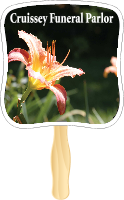 C1611 Rally Fan
7 1/2" x 7 1/2"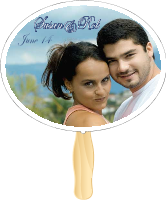 C1612 Oval Rally Fan
9" x 7 1/4"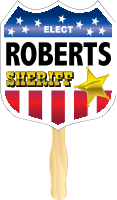 C1613 Shield Rally Fan
7 1/4" x 8 1/8"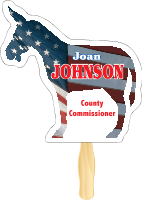 C1614 Donkey Rally Fan
9 5/8" 9 5/8"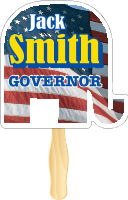 C1615 Elephant Rally Fan
7 1/2" x 7 1/2"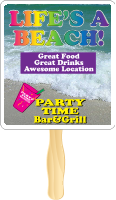 C1616 Rectangle Rally Fan
7 1/4" x 8 1/8"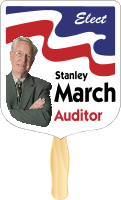 C1617 Eagle Rally Fan
7 1/4" x 8 3/8"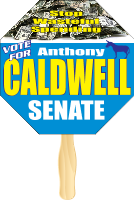 C1627 Octagon Rally Fan
8 1/2" x 8 1/2"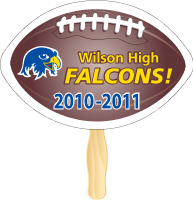 C1618 Football Rally Fan
10 1/2" x 7"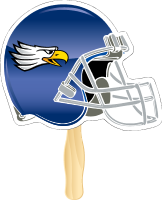 C1619 Football Helmet Rally Fan
9" x 7 1/4"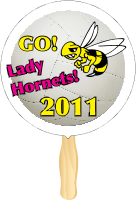 C1621 Circle Rally Fan
8 1/2" dia. Circle
4-Color Rally Fans
Price includes stock color graphics on the front and one imprint color on the back. White 18-point board, coated on front.
Pricing
125
250
500
750
1000
1500
4-Color Rally Fans
1.37
0.945
0.841
0.803
0.771
0.755
Extra Charges: Printing Plate: $37.50 per color, per side.
FIRST PLATE FREE with camera ready art.
Wooden handles are stapled to the fan, and the staples will appear in the imprint.  Add $.13 to have handles glued to fan.

PMS color match: $25.00( per color. No PMS charge for standard inks. See list under General Information tab.

Union Label: Add 40% net extra to price of fans.
Office: 1505 Corporate Woods Pkwy. Suite 500
Uniontown, Ohio 44685
Fax #: (330) 899-0407