Custom Sports Hand Fans - Promotional Hand Fans
Click here for a Free Catalog or call us toll free at (800) 915-3535!

Support your local sports team and schools with custom printed sported hand fans. People love to show their support for their favorite teams and support those who share their interest. So why not promote your business and get noticed by hundreds of fans, by printing your logo or business name on a promotional sports hand fan. Choose from a wide variety of shapes and animals like basketballs, footballs, baseballs, bears, bulldogs, and eagles. You can create a custom printed sports hand fan for a low price and get noticed by the community that supports you.
Sports Hand Fans
Sports hand fans are great for schools, sporting events, and much more! SHow off your school spirit with custom printed sports hand fans! Available in many styles, our custom printed sports fans are perfect for any sporting event!
Price includes our stock graphics in one color and your one color imprint. Fans are 18-point board, coated on one side.
Wooden handles are stapled to the fan, and the staples will appear in the imprint.
Imprint Area will vary, depending on the shape of the fan.
SPECIFY SHAPE ON ORDER. If imprinting on back, allow 1 1/4" x 4" open area at bottom center for handle placement.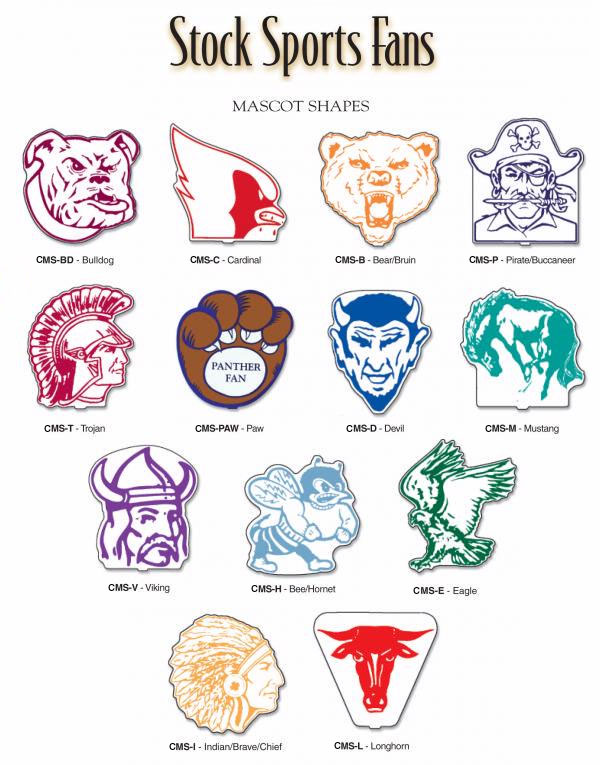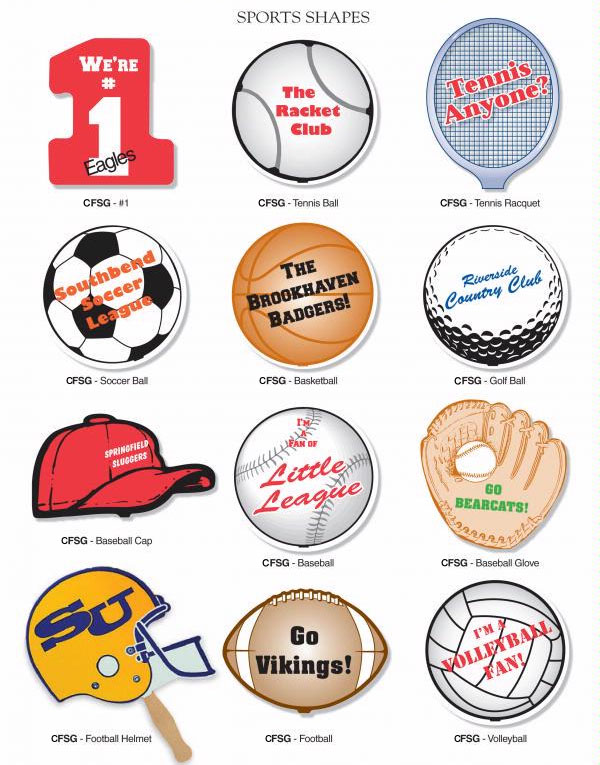 Pricing
Item
250
500
1000
2500
5000
10000
Custom Printed Sports Fans
0.87
0.63
0.45
0.40
0.35
0.35
Add'l Color or Second Side
0.18
0.10
0.06
0.05
0.05
0.05
Extra Charges: Printing Plate: $37.50 per color. FIRST PLATE FREE with camera ready art.                                                                                               
Glue Handles: To have handles glued instead of stapled: Single Ply Fans: Add $.13
Process Color Pricing: See General Information tab.

PMS Color Match: $25.00 per color. No PMS charge for standard inks. See list under General Information tab.

Union Label: Add 40% net extra to price of fans.
We specialize in rush service, and offer it with many of our products. If you need your hand fans in a rush, feel free to call our friendly customer service representatives today at (800) 915-3535.
Promotional sports hand fans not for you or your business? We have a wide selection of hand fans that ideal for any number of different situations. Contact us if you are interested in a custom printed hand fan but not sure what you want, maybe we can help you find one.
Office: 1505 Corporate Woods Pkwy. Suite 500
Uniontown, Ohio 44685
Fax #: (330) 899-0407