Rush Digital Express Custom Hand Fans
Click here for a Free Catalog or call us toll free at (800) 915-3535!

EXPRESS SERVICE! Ships in 2 Business Days!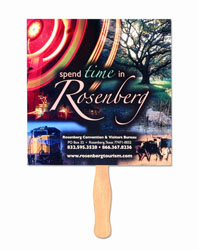 Price includes four color process, standard digital spot colors or black ink on white, 18-point board, which is coated on one side.
SHAPES AVAILABLE:
CFFSQ-8" Square, FFSQR-8" Square w/ Rounded Corners, CFF8R-8" Round, CFFHT-Heart, CFFL-Litho, CFF7R-7" Round, CFFHG-Hourglass, CFFO-Octagon, CFFPLM-Palm, CFFLB-Light Bulb, CFFHS-House, CFFFBH-Helmet, FFCH-Cowboy Hat
FOLD-OVER SHAPES AVAILABLE:
CFFFSQR-8" Square w/ Rounded Corners, CFFFO7R-7" Round, CFFFO8R-8" Round, CFFFOHG-Hourglass, CFFFOL-Litho
Auction Fans - Consecutive Numbering...
• Numbering that begins with single digit numeral will be centered on fan without zero prefix unless requested otherwise.
• Please specify on purchase order the desired layout of numbering.
• Not all typestyles available.
• Orders over 2500 require additional production time.
Item
150
250
500
1000
2500
5000
Black Ink One Side
1.20
0.72
0.58
0.50
0.46
0.45
Black Ink Both Sides
1.24
0.76
0.62
0.54
0.49
0.48
4/Color Process One Side
1.44
0.96
0.80
0.71
0.67
0.65
4/Color Process Front/Black On Back
1.48
0.99
0.83
0.74
0.70
0.68
4/Color Process Both Sides
1.70
1.20
1.03
0.93
0.89
0.88
Fold Over - Black Ink - Both Sides
1.56
1.14
0.99
0.91
0.86
0.84
Fold Over - 4/Color Process - Both Sides
2.02
1.60
1.42
1.31
1.27
1.25
Set Up Charge for Consecutive Numbering: $100.00 .
NOTE: Quantities over 2,500 require one additional business day. Please mark "EXPRESS SERVICE" on your purchase order.
Express Service requires two full working days after receipt. The order must be received by 10 AM CST, complete with camera ready art or digital art to our specifications, with approved credit or prepayment.
SPECIFY FAN SHAPE ON YOUR PURCHASE ORDER. We will use CFFHG-Hourglass if no shape is specified. If there is to be an imprint on the back, allow 1 1/4" x 4" open area at the bottom center for handle placement. Glue Handles: To have handles glued instead of stapled: Single Ply Fans: Add $.13 each, Fold-Over Fans: Add $.22 each.
PMS Color Match not available.
We specialize in rush service, and offer it with many of our products. If you need your hand fans in a rush, feel free to call our friendly customer service representatives today at (800) 915-3535.
Office: 1505 Corporate Woods Pkwy. Suite 500
Uniontown, Ohio 44685
Fax #: (330) 899-0407